The OKC Thunder season is almost here. Along with things like NBA Media Days, training camps opening up, the preseason just a few weeks away, the release of the popular NBA 2K video game signals the end of the offseason is near.
Well, today is the day, 2K day! The game is out on PC, PS4, PS5, Xbox platforms, and any other way to play video games nowadays. After preordering the game, and pre-downloading the game on my Playstation 5, I was ready to launch this game right at 11 pm central time.
How did NBA 2K rate the OKC Thunder roster?
The first thing I did when I started up this year's version of the NBA 2K series was head over to the roster screen, scroll to the OKC Thunder and dissect how the developers graded out this Oklahoma City Thunder team.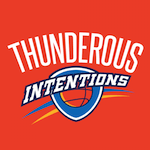 Want your voice heard? Join the Thunderous Intentions team!
It is no surprise, Shai Gilgeous-Alexander is the highest-rated Thunder player. On a scale of 0-99, SGA tops out at 87 overall to start the year.
The game also features a "badge" feature which highlights what every player thrives at. Not everyone gets a badge especially the higher tier badges. They rank from bronze, silver, gold, and purple which is classified as a hall of fame level boost.
The newly max contract player features 37 badges. eight come in the shooting column and finishing tab, three from. the defensive category, and 18 from the playmaking category. Shai's highest rated badge is a gold tear dropper badge which allows him to have a higher chance at floaters and runners.
SGA also earns Arcobrat, Fast twitch, giant slyer, pro touch, slithery finisher, unstrippable, and fearless finisher. This accompanies stop and pop, clutch shooter, catch and shoot, rhythm shooter, mismatch expert, hot zone hunter, and difficult shots badges. He also earns the new Lucky number seven which increase his chances of making shots late in the shot clock or game clock.
As a playmaker, Shai earns Bail out, bullet passer, downhill, floor general, glue hands, hyperdrive, needle threader, quick first step, unpluckable, break starter, dimer, handles for days, quick chain, space creator, special delivery, stop and go, tight handles and triple threat juke.
On the defensive end of the floor SGA is given hustler, interceptior, and pick dodger.
Lu Dort ranks as the second-best player on the team, rated 78 overall with fifteen total badges. Giant slayer, bullet passer, glue hands, hustler, menace, ankle braces, ball stripper, clamps, interceptor, off-ball pest, pick dodger, pick pocket, tireless defender, defensive leader, and intimidator.
Derrick Favors is a 77 overall, while Darius Bazley, Ty Jerome, and Josh Giddey each come in at 75 overall,.
Aleksej Pokusevski is a 74 overall with one badge, the defensive badge pogo stick which improves the ability to recover and jump quicker after landing. Kenrich Williams, Mike Muscala, Gabirel Deck, Isaiah Roby, and Theo Maledon are also a 74 rating,
Thunder rookie Tre Mann is a 72 overall player with the pro touch badge, bullet paser, and needle theader. Fellow Rookie Giddey earns a trio of badges as well. Bail out which allows you to pass out of a shot, bullet passer, and needle threader.
Charlie Brown Jr is a 69 overall while Josh Hall comes in at a 66 overall. The 2K roster does not feature Aaron Wiggins who is on a two-way contract with the team. It is also missing recently signed Vit Krejci.
from WordPress https://ift.tt/3jWEWuy
via
IFTTT